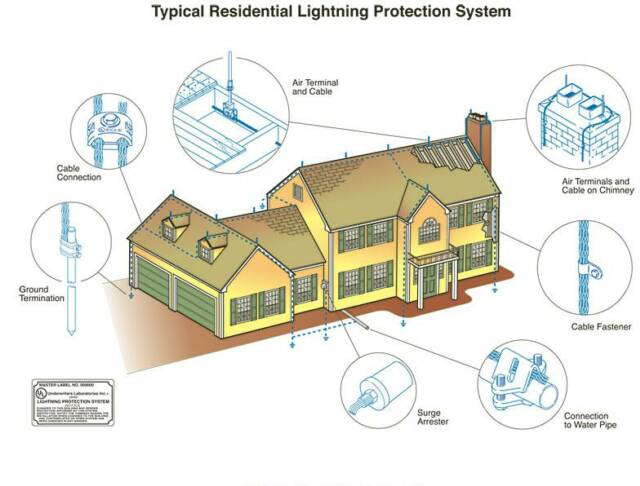 A lightning protection system neither attracts, repels nor prevents a lightning strike. The lightning protection system simply provides a safe path for the lightning current to follow - allowing the harmful current to be guided safely into the ground and away from your home.
It is the responsibility of UL Listed installers to use UL Listed lightning protection components evaluated to the latest edition of UL 96 and labeled with the appropriate UL marking indicating eligibility for use in these systems. It is also a Listed installer's responsibility to assure that a lightning protection system submitted for certification is installed in accordance with the applicable requirements.
LIGHTNING PROTECTION IS A SPECIALTY SYSTEM!!
To ensure that a lightning protection system is installed in accordance with national safety standards - it is important to hire an experienced lightning protection contractor that is listed with Underwriters Laboratories. Lightning protection systems should be installed by trained, experienced lightning protection specialists - roofers, general contractors and electricians are typically not qualified to install lightning protection systems.
Do Not Let This Happen to You!!!